28/07/21 16:07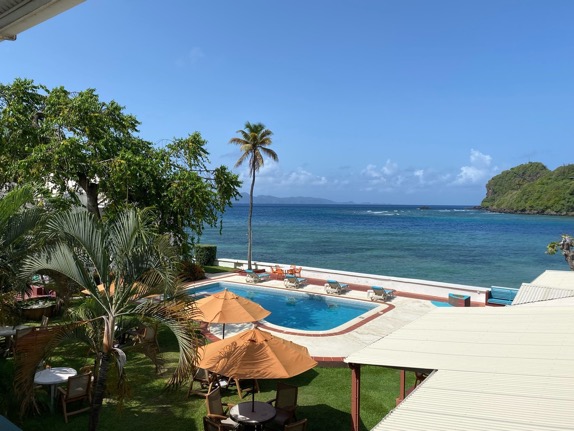 The Mariners Hotel, Arons Vale, St. Vincent and the Grenadines, July 2021


The second attempt of travelling to Saint Vincent and the Grenadines, an archipelago in the eastern part of the Caribbeans has proved to be successful. After transferring through Miami (see a gallery of pictures from Miami here), I am now at my hotel in the place called Arons Vale, just outside of Kingstown, the country's capital.

As we know, however, life is never perfect, and some frustrations remain. Although I managed to get to the country, before I am allowed to start working, I have to complete 7 days of quarantine. I think, it is still a considerably small and an understandable nuisance. The authorities do not want to take chances, when it comes to spread of COVID, given the limited resources the country has to support its health infrastructure. And frankly, my view (see the picture above) from my quarantine hotel makes things as pleasant as humanly possible. When you add good food, and friendly staff, then there is really nothing to complain about. Except lack of physical activities, which is a bit boring, I am not actually complaining of having nothing to do. I carry on working, catching up with working reports and reading details of the project that I am going to visit (as you may remember, this is a project related to the response to the powerful volcano explosion, which took place around a month ago).

If my second COVID test gets negative, I should be out of the quarantine this coming Saturday. I will then start moving around the island and will report to you what I will have managed to experience (both in and out of work). Until that happens, stay safe and well!