25/06/19 08:26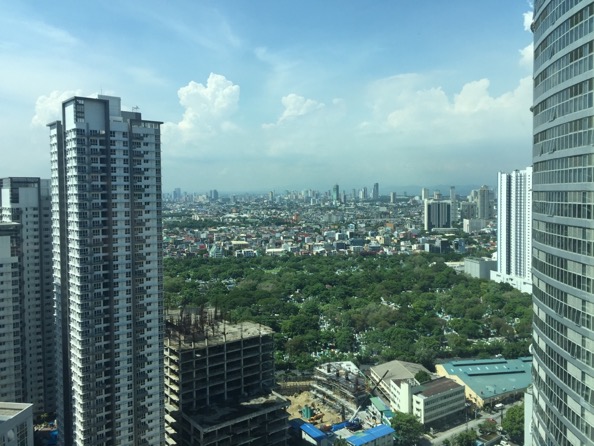 A view from ECHO's office on Metro Manila
After doing all the administrative work that I came here for, I have got a few hours in our office of Manila (with this beautiful view) to go through my emails and think of remaining two weeks in Asia.


Time flies, and whether I like it or not, my time in Asia is coming to its end. On 14th July, I will be flying out of Bangkok and starting my two weeks of holidays with family in Europe. Before that happens, still some work to be done. Tonight, I will be in the plane between Manila and Bangkok. Tomorrow, I will have to start packing my flat. Yes, I will need to start putting things to boxes, so that all the stuff that I want to transport to Panama City is taken to the shipment company to allow them for arranging all the formalities for my items to be taken to America. It will be busy to arrange all of it, but then the weekend will come, and I will wake up in a nearly empty flat… It is such a strange feeling. It actually gives me a bit of stress and butterflies in my stomach. The next chapter of my life is coming to its end, and the new one is set to begin.

As I am trying to prepare for departure, I am also in the middle of the administrative procedure of helping Tahir get his Schengen visa. Now, we have got all his papers collected, and he has an appointment to visit the Consulate of Poland in Toronto this Friday, so that he can submit his application. If all goes according to plans, he should get his visa within next 2 weeks, so that he can catch his plane to Warsaw on 14th July. The plan is that we both arrive to Warsaw the same day, and then travel down to Krakow and then Nowy Sacz together.

When Tahir is with us, the idea is that we all (meaning, Mum, Tahir and I) travel around Europe a bit. At this stage, we are considering two options. One is go north to Lithuania, Latvia, Estonia and Finland; or if not, then going to Slovakia, Austria, Slovenia, Italy and Liechtenstein and then back to Poland via Germany and Czech Republic. We may well end up doing something completely different, but at the end of the day, whatever we decide, it should be lots of fun! I am very, very much looking forward to the break.

Then, there is a trip to Panama City, and starting my new responsibilities. I will be travelling to my new work destination at the beginning of August (on the way, I will spend a day in Los Angeles), and get into my new job as soon as I can. Getting adjusted to my new work life also signifies that I will need to get settled in my job. Getting a new flat, considering buying a car… All these things will need to get sorted.

Change is overwhelming sometimes, but it is also very, very exciting. Really looking forward to next few weeks.