May 2020 has nearly ended, and Panama still continues its strict confinement policies
22/05/20 08:58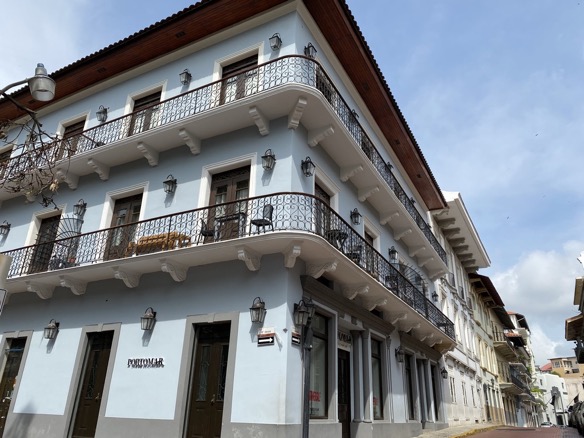 The house in Casco Viejo, the old district of Panama City, where my flat is located, May 2020


It is well over two months since we have not been allowed to move around and are on the strict lockdown here in Panama. It is tiring and frustrating to everyone, but I think that people take the whole situation in a very mature and certainly understanding way. It is admirable, provided that thousands are left with no income, the state aid to the affected individuals is far from being comfortable, not to mention all other social consequences of the measures.

The good news is that the policies that were introduced, potentially have helped Panama avoid the situation where its health system collapses. It is stretched, things are stressful, but people are being given all the medical attention when needed and, the health personnel across the country heroically save thousands of lives, without leaving anyone out! My highest respect to everyone involved in making this happen for this!

There are signs that things may be changing soon. This week, the government has finally allowed the public to exercise, jog, run or walk within one kilometre from their residences. Also, few businesses have been allowed to reopen on a limited scale. What's more, it appears there will be further easing-up coming next week, for which we all look forward to. More business should be given permissions to re-start, and if all goes well, the public will be able to move around more freely, as long as the individuals observe some basic principles of physical distancing and hygiene. The national airline, Copa, is preparing to relaunch its operations to some of the countries, which is crucial for us, so that we can deliver on our own work and obligations towards partners that we deliver the humanitarian operations in the region.

For me personally, the lockdown, has brought lots of adjustments to the way I lived and many new challenges that I needed to, or decided to deal with.

Given that part of my job deals with issues relating to civil protection, much of my work has been dealing with helping arranging the repatriation flights from countries of Latin America and the Caribbean for the residents of the EU, who got stranded across the region. For various reasons, it has been a very stressful experience, though now, that most of the work is over, and most of the people are flown back to their homes, it feels good to have participated in this historic operation.

When it comes to humanitarian side of our work, recently we are extremely busy in arranging a big fundraising event for Venezuela, an event that we refer to as 'The Venezuela Pledging Conference', whose aim is to present to international donors the humanitarian needs related to the crisis in Venezuela, and encourage them entering into commitments to provide funds for the Venezuelans who need support. The event will take place in a few days' time, and I will write about it some time later.

I am also very busy trying to understand the extent of the spread of the coronavirus in the Amazonia. You may have heard that South America, especially Brazil are now the epicentre of the pandemic. We are far from where we should be, when it comes to rolling out humanitarian assistance there, but there is lots of efforts when it comes to mobilising funds, logistics and partners to intervene.

More privately, I have been very busy in following up on my personal project, assisting the migrants in Panama, the action that personally made me very happy, however small it is.

Finally, among all other things, I have been really strict in trying to perfect my Spanish, and when I look at it from the perspective of two months, I notice lots of progress!

I hope that next time I write here, I will be able to report on some progress in our work and on further steps of returning to 'normality'. Until then, please look after yourselves, and stay well and healthy!