A week of festivities
09/04/19 08:49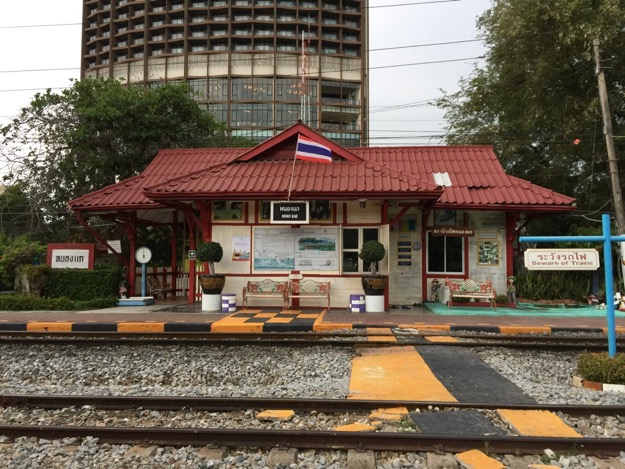 Hua Hin's local train station.
It is a week of festivities coming. While Thailand is gearing up for possibly its most important holiday of the year, the Songkran (Thai/Buddhist New Year), the Christians are getting ready for Easter celebrations. One can feel the holidays coming everywhere. Most of my Thai colleagues have either already taken their days off, or are about to do that in coming days, so that they can travel to visit their families or friends. Also the foreigners in the country are planning their time off. Most of the people planning a seaside trip, or a short break outside of the country.

I have decided for a slightly different approach. I took a Monday off, and decided to travel to Hua Hin, outside of Bangkok, last weekend. I had a wonderful and quiet three days at the coast. Walking on the beach, admiring nature, and visiting street markets. Very relaxing time indeed (
you can find some pictures from the trip in this gallery
)!

I will still be travelling more though. This Saturday morning, I am setting off for a trip to Europe. I will first visit Brussels and spend some free time there with friends, and then off to Lisbon and Obidos! So much looking forward to that. The best part is that I actually do not have lots of plans with regard to Portugal. I will just take it easy and take things as they come along. All in all, the strategy is to enjoy the moment, eat good food and sleep a lot!

Before making it to Europe, there is some humanitarian stress that I follow up on in Iran. Some of you may have heard that the country is hit by very serious floods. Many people have lost their lives, and the destruction is immense. We still need to comprehend the detailed extent of the disaster, but we are already trying to team up with our partners and
roll out a humanitarian response in the affected areas
. It seems that many of the EU countries will also support the victims in their own capacity too, which is so important in the first hours after the calamity - when the needs are greatest and the most severe.

I will be updating you on how things go with the work soon. Until that happens, passing to all of you best regards.