La Soufrière, the Bad Boy
02/08/21 15:14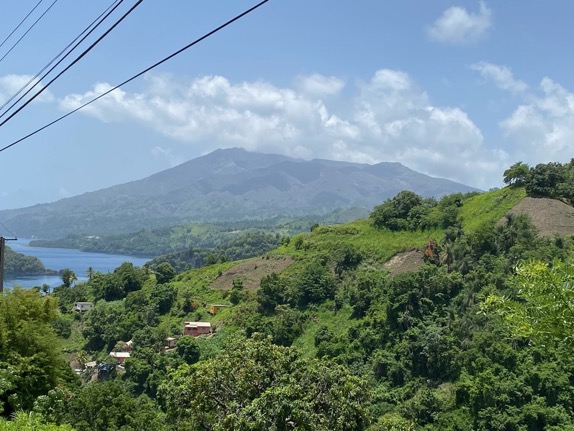 La Soufrière Volcano, Saint Vincent and the Grenadines, August 2021


Although it was Sunday, I had a chance to make it to the north of the Saint Vincent island yesterday, so that I could have a glimpse of my very reason of the visit to this country: the Soufrière Volcano.

You may remember that a little over a month ago, the eruption caused the major havoc in Saint Vincent and the Grenadines and across Eastern Caribbean region, forcing thousands of people to flee to the south of the island, as well as to neighbouring Saint Lucia and Barbados, and resulting with substantial destruction of houses, and public infrastructure.

The taxi driver taking me to the north was not too keen to talk about the eruption, until I told him that I was not a regular tourist, but someone who came here to help in recovery work after the disaster. 'So you are here to help to deal with 'the Bad Boy'', he confirmed, and decided to bring me to 'Red Zone' on the western side of the island (less affected), so that I could see some of the destruction and the volcano itself.

But coming to an island, which looks like a paradise, can be tricky, when you come for the humanitarian response. You are distracted by amazing greenery, blue colour of the ocean, gold sand of the beach, and friendly and warm people. Everything looks amazing, and it is easy to forget that people actually struggled to get back on their feet after the disaster ruined their homes and livelihoods. The destruction became clear however. Up there in the north, one could observe tones of sludge (creation of ash being mixed with rain water) covering buildings, fields, beaches and bays. The overwhelming burning smell and clear distress of some of the people I talked to, reminded me that we deal with powerful forces of nature that we can be so vulnerable to.

As of today, I will be looking at the details of the humanitarian response with my colleagues from local and international organisations on the ground. I am sure that their professional experience will allow me understanding challenges the people experience in more depth and will allow us to make sure that our response is adjusted to be as helpful and possible under the circumstances. I will soon be informing you what I will have found out and learnt.