New Year's resolutions and plans for 2019
31/12/18 22:13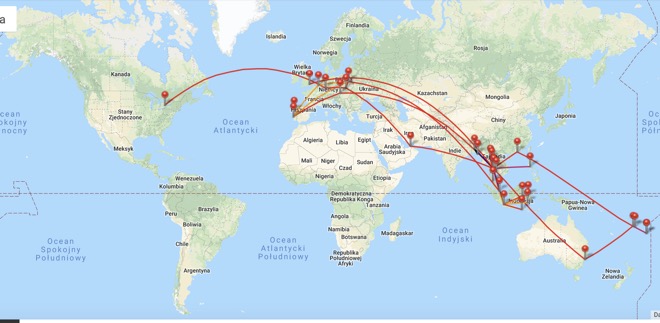 My personal and professional travels of 2018.
It is already 2019 here in Bangkok. I woke up early to welcome a new day, new month and new year!


As it is a day off here, I have some free time to catch up with some of my emails, administrative issues and plans. One thing that I have learnt, in my work, especially in last year is that one should take plans with a pinch of salt. You may plan whatever you want, as long as you want, and something unexpected happens, and you just need to collect the pieces of your carefully thought-through wishes, desires, visits… I am set to have a very busy 2019, especially the beginning of it, but then again, who knows?

In January, I am planning to visit Mum and family in Nowy Sacz. While in Europe, together with Mum, we are also planning to make a short side-trip to Kyiv. If all works, it will me our first trip to Ukraine, and needless to say that I am very excited by the prospects.

From Poland, I am flying directly to Toronto, where I will spend a week with Tahir. We do not have precise plans for the visit yet, but I guess it will be a mixture of catching up, dealing with some of the administrative issues, and some excursions to nature, out of the city.

Upon my return to work, I am directly planning to go to the Philippines, where I am going to be visiting our programmes in southern island of Mindanao. Depending on whether we are successful getting our visas ready, we should also travel to Pyongyang of DPRK at the end of February/beginning of March. It will be a study trip to learn about opportunities of starting some disaster risk reduction projects. Again, as you can imagine, I would be so happy, if we could go.

In April, together with the rest of the folks from my organisation, I am likely to be in Brussels for our annual headquarter meeting.

Then, in June/July I am going to be packing my stuff up, and getting ready to move out of Thailand! I am still not sure which part of the world, I will be moving to, but I will definitely let you know, once the discussions are finalised.

During this first day of the year, I am also thinking about things that I would like to do better this year. There may be lots of things that I would like to change, but the major one is that I will try worrying less, especially about things that I have no influence over. Please hold me accountable, when you see that I am not delivering!

So while, I am not planning too much ahead, there are definitely some exciting prospects waiting for me in 2019!